Growing up in a South Asian household, legumes and pulses were a staple in my day to day eating.
Legumes and pulses are often included as a part of a number of healthful eating patterns such as the Mediterranean Diet, Dietary Approaches to Stop Hypertension (DASH) Diet, and the USDA Healthy Eating guidelines.
The terms legumes and pulse are used interchangeably but they do have distinct definitions.


Legumes refer to any plant from the Fabacae family that includes leaves, stems & pods.
A pulse is the edible seed of a legume plant (beans, lentils, peas etc).
Legumes and pulses are an important source of plant-based protein (generally higher than whole grains).
Not only do legumes and pulses contain protein, they are also a good source of folate, fiber, iron, phosphorous, phytochemicals, polyunsaturated fats and have a lower glycemic index.
Regular legume consumption is thought to play a role in the prevention of obesity, metabolic syndrome, cardiovascular disease, and colorectal cancer.
In addition to their nutrient density, pulses and legumes (especially dried varieties) are affordable, and are grown sustainably (decreased greenhouse gases, increased soil health and less water usage compared to other crops).
Regular legume consumption is thought to play a role in the prevention of obesity, metabolic syndrome, cardiovascular disease, and colorectal cancer.
Click To Tweet
Consumption Stats


In regard to health benefits of pulse and legume consumption in literature, a recently published systematic review and meta-analysis by Guasch-Ferre et al (Circ 2019) found that substituting red meat with high-quality plant protein sources (legumes, nuts) leads to more favorable changes in total cholesterol and low density lipoprotein.
In another systematic review and meta analysis by Kim et al, dietary pulses may be effective for modest weight loss & maintenance of weight neutrality even in diets that are not calorically restricted.
In addition, a randomized trial by Jenkins et al. evaluating the incorporation of legumes as part of a low-glycemic index diet in participants with diabetes type 2 on oral medications found improved glycemic control (as measured by hemoglobins A1c reduction), reduction in blood pressure, modest weigh loss and reduced calculated CHD risk score.
They're not popular, though.

Despite the potential health benefits of legumes and pulses as a part of a healthful eating pattern, legume and pulse consumption remains low in the US. A recently published study by Perera et al (2020) based on the National Health and Nutrition Examination Survey (2011-2012 & 2013-2014) and the Beans, Lentils & Peas 2017 survey suggested there has been a decline in legumes and pulse consumption in the United States (US) from 18.5% in 2011 to 13.7% in 2014. The US is 100th out of 174 countries in legume and pulses consumption.
The highest proportion of legume and pulses consumers were in the age group of 46-55 yrs with the lowest being ages of 18-25 yrs. Dry beans (pinto, refried, black, red kidney, baked, red, white) were the most commonly eaten while chickpeas & lentils were eaten less frequently. Approximately one-third of participants in both surveys did not eat legume and pulses in a given month.
Factors and barriers that influence consumption included cultural practices, unfamiliarity with the types of legume and pulses, lack of preparation technique and culinary skills to make legumes and pulses tasty, dislike of the taste and texture, and digestive discomfort. Also, legume and pulses are often lumped together in the vegetable or protein group of eating patterns, and not highlighted as a separate group.

Here are some tips and tricks to get started on cooking legumes and pulses to incorporate into your day to day eating.


1. 1 cup of dried beans or legumes yields 2-3 cups cooked portion

2. Rinse legumes and pulses under cool water. Discard any stones and debris

3. Lentils, mung beans and split peas can be cooked without soaking

4. All other legumes beans should be soaked with water covering the beans with 2-3 inches for 8-12 hours to reduce cooking time. This can also help with digestibility*. The beans should at least double in size. Soaked legumes should be risked with fresh water before cooking.

5. Don't have time to soak overnight? Try the quick soak method. After rinsing, place into a pot with water (covering 2-3 inches) and bring to a boil for 10 minutes. Remove from heat, cover the pot and soak for one hour. Make sure to rinse before cooking.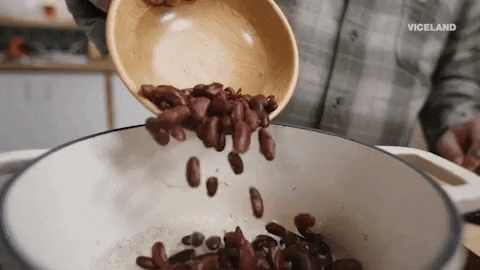 6. See the above great chart by UC Davis Balanced Kitchen for stove top cooking time and water ratio for a variety of legumes and pulses. You want to place the legumes or pulses into the water and bring the water to a boil. Once the water is boiling, then you want to reduce the heat to bring the water to a simmer and follow the cooking times below. Add a few bay leaves in while cooking for added flavor.

7. A faster cooking method is using a pressure cooker such as an Instant Pot. See below for a chart on cooking times of a variety of beans dry vs soaked.

8. If you don't want to use dry beans, an alternative are canned legumes such as garbanzo beans, kidney beans, pinto beans, black beans ect. Just make sure to look for the no salt added/low salt varieties and rinse the canned liquid off.

9. Legumes and pulses can be added to soups, curries and salads.

Check out this website to learn more about the benefits and cooking tips for pulses!

*Soaking beans could help reduce the oligosaccharides (of the raffinose family) that can cause excessive flatulence*


Sources:

Ferreira et al. Benefits of pulse consumption on metabolism and health: A systematic review of randomized controlled trials. Crit Rev Food Sci & Nut. Jan 2020

Gausch-Ferre et al. "Meta-Analysis of Randomized Controlled Trials of Red Meat Consumption in Comparison With Various Comparison Diets on Cardiovascular Risk Factors." Circulation April 2019.

Jenkins et al. "Effects of Legumes as Part of a Low Glycemic Index Diet on Glycemic Control and Cardiovascular Disease Risk Factors in Type 2 Diabetes Mellitus." Arch Intern Med Nov 2012

Perera et al. Legume consumption patterns in US Adults: NHANES 2011-2014 and Beans, Lentils, Peas (BLP) 2017 Survey. Nutrients. April 2020

https://www.hsph.harvard.edu/nutritionsource/legumes-pulses/#:~:text=A%20legume%20refers%20to%20any,the%20pod%20is%20the%20pulse.

https://pulses.org/us/

https://instantpot.com/wp-content/uploads/2020/03/EPC-Time-Table-2020-03-31.pdf

https://shcs.ucdavis.edu/sites/default/files/documents/BeansCookingChart.pdf